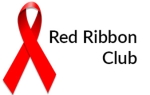 Red Ribbon Club is a movement started by the Government of India in schools and colleges through which, students will spread awareness over HIV / AIDS. It envisages instilling charity mind among all the students to extend their able help towards developing healthy life styles, donating blood to all the needy by promotion of Regular voluntary blood donation.
Red Ribbon Club Guidelines
The significance of Red Ribbon in HIV / AIDS is:
Red like Love, as a symbol of passion and tolerance for those affected.

Red like Blood, representing the pain caused by many people who have of AIDS.

Red like the anger about the helplessness about which we are facing for a disease for which there is still no cure.

Red is a sign of warning not to carelessly ignore one of the biggest problems of our time.
Red Ribbon Symbol
The red ribbon is a symbol for both drug prevention and for the fight against AIDS. The Red Ribbon foundation is an organization founded in 1993 whose main purpose is the education about prevention of the Human Immunodeficiency Virus or HIV, Acquired Deficiency Syndrome Related Complex, ARC and AIDS.
The Red Ribbon is the international symbol of HIV and AIDS awareness. It stands for:
It is being worn by increasing numbers of people around the world to demonstrate their care and concern about HIV and AIDS - for those who are living with HIV, for those who are ill, for those who have died and for those who care for and support those directly affected.
The Red Ribbon is intended to be a symbol of hope - that the search for a vaccine and cure to halt the suffering is successful and the quality of life improves for those living with the virus.
The Red Ribbon offers symbolic support for those living with HIV, for the continuing education of those not infected, for maximum efforts to find effective treatments, cures or vaccines, and for those who have lost friends, family members or loved ones to AIDS. But the Red Ribbons are not enough. The Red Ribbon is only a useful symbol in the long run when attached to words and deeds that actually make a difference.


If you are offered a Red Ribbon, you are asked to take it and wear it as a tribute to the millions of people living with or affected by HIV and AIDS worldwide. Anyone can wear a Red Ribbon to support the cause.
Objectives of the Club:
To reduce HIV infection among young people by raising their risk perception through Life Skills Education programme and create awareness on Sex, Sexuality, HIV – AIDS.

To encourage among youth the spirit to help and support people living with HIV-AIDS, thereby reducing stigma and discrimination against them.

To motivate youth and build their capacity as peer educators by developing their skills on leadership and team building.

To promote voluntary non-remunerated blood donation among youth.
Basis Strategies of Red Ribbon Club Programme
The programme is being implemented through Non Governmental Organisation in coordination with Universities trained RRC Incharge/ Programme Officers (Lecturers) and peer educators. Non Governmental Organisation will train the nodal teachers and peer educators with initial support from trained resource persons. The nodal teachers and peer educators will take interactive classroom sessions with students across all targeted colleges.
These sessions will be based on five issues those are as follow:
Healthy Life Style and Stress & Strain free Environment.

Drug Addiction.

Blood Donation Promotion.

Life skill Development and good eating habits.

Reproductive & Sexual Health including RTI/STI and HIV/AIDS.
The sessions will be participatory and seek to address the concerns of youths on growing up through role-play, brainstorming and discussion. They will also address myths and misconceptions that young people have about health and reply to queries of youths by using the Question Box.
Main Days to be observed by RRCs
12th August    :           (International Youth Day)

1st October     :           (National Voluntary Blood Donation Day)

1st December  :           (World AIDS Day)

12th January   :           (National Youth Day)

8th March       :           (Women's Day)
RRC COORDINATOR
Prof. A. JAYA KUMAR., M.Sc., M.Phil.,
Assistant Professor, PG and Research Department of Microbiology,
RRC coordinator,
Shanmuga Industries Arts and Science College,
Tiruvannamalai – 606 601.
Mail Id: rrc@shanmugacollege.edu.in